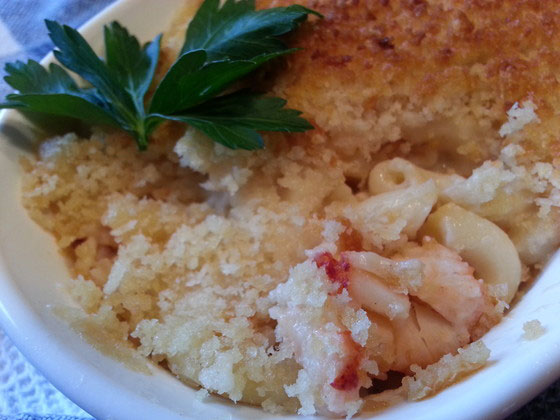 6-8 servings.
Kosher salt
Vegetable oil
1 pound elbow macaroni
1 quart milk
8 tablespoons (1 stick) unsalted butter, divided
1/2 cup all-purpose flour
12 ounces Gruyere or Swiss cheese, grated (4 cups)
8 ounces extra sharp Cheddar, grated (2 cups)
1/2 teaspoon freshly ground black pepper
1/2 teaspoon nutmeg
1 1/2 pounds cooked lobster meat
1 1/2 cups fresh white bread crumbs (5 slices, crusts removed)
Preheat the oven to 375 degrees
Drizzle oil into a large pot of boiling salted water. Add the pasta and cook according to package directions. Drain well.
Meanwhile, heat the milk in a small saucepan, but do not boil it. In a large pot, melt 6 tablespoons of butter* and add the flour. Cook over low heat for 2 minutes, stirring with a whisk. Still whisking, add the hot milk and cook for a minute or two more, until thickened and smooth. Off the heat add the Gruyere or Swiss, Cheddar, the pepper, and nutmeg.
Add the cooked macaroni and lobster and stir well. Place the mixture in 6 to 8 individual gratin dishes.
\Melt the remaining 2 tablespoons of butter, combine them with the fresh bread crumbs, and sprinkle on the top. Bake for 30-35 minutes, or until the sauce is bubbly and the
Recipe Courtesy of Ina Garten
Notes: * at this point I add some shallots and garlic to the butter and cook until shallots are translucent, then add the flour. This step is totally optional.