In 2008, while searching unsuccessfully for gainful employment, we decided to start selling Maine lobster in Naugatuck, CT along the side of the street on Rubber Avenue. The following year, we purchased a refrigerated truck and expanded our product line to include fresh wild caught fish and shellfish. In addition to our base in Naugatuck, we participated in winter farmer's markets in Norwalk, Westport, and Weston, CT.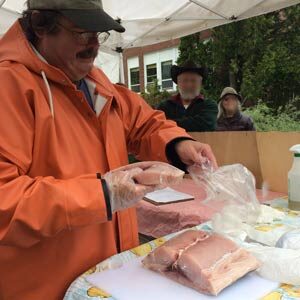 After several years of travel to CT, we built a commercial kitchen and became members of the  Camden and Damariscotta Markets.. The following year we joined the Bath and Topsham winter markets.
Currently, we participate in the summer markets of  Brunswick and Boothbay, and the Brunswick winter market in addition to Bath and Belfast year round markets.
Our business now consists of fresh fish, shellfish and value added items we developed and our product line continues to grow.
With over forty years of experience in the industry, our philosophy is to buy our seafood only from licensed harvesters, processors and dealers. This helps ensure that our customers are getting the highest quality seafood from the area.
Pemaquid Lobster & Seafood LLC  is HACCP trained (Hazard Analysis Critical Control Point) as mandated by the FDA. Furthermore, we are licensed and routinely inspected by The Maine Department of Marine Resources and the Department of Agriculture.
~ Tom & Tracy
PLEASE NOTE
We are NOT IN ANY WAY affiliated with the Pemaquid Seafood Restaurant in Pemaquid Harbor.