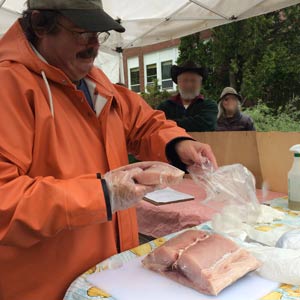 We usually update the Catch  by mid day on  Wednesday.
Tom & Tracy Penniman
(207) 350-7054
Please bring a plastic bag and cooler for your purchase. Maine's single use plastic bag law means we will still have plenty of ice, but no bag to put it into!
Catch of the Week of September 19th
Fillets
Salmon, Haddock, Halibut (limited)


Shellfish
Scallops, John's River Oysters
From Our Kitchen

To view descriptions of these items visit From Our Kitchen.
Appetizers
NEW: Dairy Free Smoked Salmon Spread
Roasted Smoked Salmon
New Harbor Crab Dip
Roasted Smoked Salmon Pâté
Smoked White Fish Pâté
Main Course
Scallop Casserole
Old English Fish Pie
Lobster Mac & Cheese – Large Size (33 oz)
Marinara Clam Sauce
Cakes & Burgers
Crab Cake
Fish Burger
Clam Cakes-Gluten Free
Haddock Burgers-Gluten Free
Salmon Burgers
Chowders, Bisque & Stock
Haddock Chowder
Swedish Style Haddock Chowder
Fish Chowder
Lobster Bisque With Lobster
Fish Stock
Lobster Stock, quarts only